Join me in bringing light to the darkness of cancer by donating towards my fundraising efforts in support of The Leukemia & Lymphoma Society's Light The Night campaign.
Here is the link to my Fundraising Page for this years campaign.
This years campaign will conclude with a Virtual Walk on 16 October 2020. See this link for further information.
As many of you know I have Leukemia, CLL/SLL (Chronic Lymphocytic Leukemia/Small Cell Lymphoma), that remains a constant reminder of how Blood Cancers, of all descriptions, impact the lives of so many people.
So far I am fortunate enough to be able to volunteer reaching out to many with various Blood Cancers offering resources through the Leukemia & Lymphoma Society that they might not have been aware of before our outreach.
I know first hand what incredible work, and support, the Leukemia & Lymphoma Society offers all those challenged by Blood Cancer.
Here is one great story.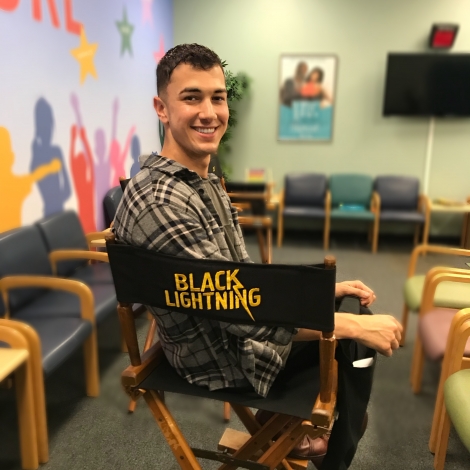 In the fall of 2014, I was living my dream. I had just finished my freshman year at NYU, where I studying musical theater. I was living in the East Village, experiencing everything that New York has to offer. Even though I was a long way from my family in Miami, I absolutely loved it. However, I soon started to feel lethargic, coupled with a lymph node that was popping out of my neck and getting bigger. Something just wasn't right. I was downing 9 Advil a day and started seeing doctors to try and figure out what was going on.
After tons of tests and scans, and a call to my protective Latina mother in Miami to come to New York right away, I was diagnosed with stage two Hodgkin's lymphoma. You'd never say that getting cancer is lucky, but Hodgkin's lymphoma is an incredibly curable form of the disease. That didn't make me feel any better at the time, but I now know how much my life depended on the research and treatments that LLS has been funding for all these years.
I took a leave from NYU and returned home to Florida to start chemo. Four rounds of three week cycles. I was treated in the pediatric system, and the most striking thing was seeing all the little children hooked up to IVs, fighting worse diseases than I was. It just wasn't fair. I was responding well to my treatments was surrounded by love – my sister, my parents, my grandparents and all my friends. I was lucky to have the level of support that so many others do not.
In January of 2015, I achieved remission and soon became determined to find a way to fuse my love for the arts with my newfound passion for saving lives. Since being in remission, I've dedicated myself to helping raise money for The Leukemia & Lymphoma Society by creating and producing fundraising events to help others win their fight. Once I got back to school, I created an event called "Raise Your Voice: A Cabaret for a Cure", which featured Broadway and TV stars who performed alongside the future generation of musical theater, my classmates and myself, to raise funds for LLS.
I was then lucky enough to host multiple Man & Woman of the Year Galas and the Light The Night events to tell my story and pay my good luck forward. Most recently, I raised over $11,000 through "Band Together: Lights Up On Broadway," which was a virtual cabaret featuring a star-studded line up of award-winning actors and celebrities, including Matthew Morrison, Michael Cerveris, Moises Kaufman, Robin De Jesus, Greg Jbara, Griffin Matthews, Nick Adams, Max von Essen, Elizabeth Stanley and so many more. What can I say? Beating cancer is in my blood and I will not stop working until we rid the world of this terrible disease.
Now I'm 25, living in New York and still chasing my dream. I'm in the survivorship program at Weil Cornell and I get routine blood tests once a year to make sure everything is okay. My experience with cancer, as terrible as it was, helped me grow as a person and as a performer. I am kinder and more optimistic about a world in which I now know my place and my mission. And that is to continue to help others who are not as lucky as I am…and continue to thank and support people like you who made my life possible.
It is because of the fearless team at LLS, the incredible volunteers, the generous donors, and the unparalleled teams of doctors and nurses that I was able to follow my dreams of being an actor on Broadway and television. I know that there are so many of you out there right now fighting your fears or your own cancer battles, and I want you to know that from then through now, The Leukemia & Lymphoma Society is STILL HERE for you. Cancer may not be cancelled or shut down, but neither is hope, and THAT is what we are here to celebrate. The hope that with your help, we will one day, and one day in our lifetimes, live in a world free from cancer.
Dedicated to curing leukemia, lymphoma, myeloma, and other blood cancers, The Leukemia & Lymphoma Society (LLS), is the world's largest voluntary (nonprofit) health organization dedicated to funding blood cancer research and providing education and patient services.
Since 1949, LLS has invested nearly $1.3 billion in groundbreaking research, pioneering many of today's most innovative approaches. We work tirelessly to find cures and ensure patients can access the lifesaving treatments they need. When someone experiences the fear and uncertainty of a cancer diagnosis, we provide hope, compassion, education and support. And we are making an impact in the cancer community.
By giving a donation today, you can help children like Thalia. Just one month after her 5th birthday, Thalia was diagnosed with acute lymphoblastic leukemia. She was admitted to the hospital the same day and started treatment the very next morning. There were many ups and downs throughout her first few months of treatment but no matter what she remained positive. Thalia is now in the maintenance phase of her treatment and wants to become an oncologist to help other kids with cancer when she grows up.
Money raised through Light The Night allows The Leukemia & Lymphoma Society (LLS) to fund treatments for patients who are suffering from all forms of blood cancers.
In 2018, LLS helped advance 19 of 21 approved blood cancer therapies. Beating cancer is in our blood.
Help defeat the darkness of cancer. Please make a donation today to continue to help children like Thalia!