It's that time of year again: the leaves are changing, the days are getting shorter, and the bears are getting chunkier. Every fall, some of the largest brown bears in the world gorge themselves on sockeye salmon at Brooks River in Katmai National Park, Alaska. To the delight of internet onlookers, the slender bears prepare for hibernation by ballooning into fluffy brown blimps.
"Fat Bear Week is really a celebration of success and survival," says Lian Law, a visual information specialist at Katmai, to Natalie B. Compton for the Washington Post. "We really highlight the resilience and adaptability of bears here."
Each day of Fat Bear Week, which spans from September 29 to October 5, the public is asked to choose between the "fattest of the fat" in online daily mashups. Voters can judge the bears on any combination of criteria—floofiness, chonkiness, or inexplicable charm. Enthusiasts can also download their own March Madness–style bracket and watch the bears feast via a live river cam. The bear with the most votes each day advances until one girthy goober is crowned the champion on "Fat Bear Tuesday," which falls on October 5 this year.
The first iteration of the competition took place in 2014 as a single-day event and has since soared in popularity. In 2019, more than 200,000 votes were cast. Last year, the number grew to more than 600,000 votes.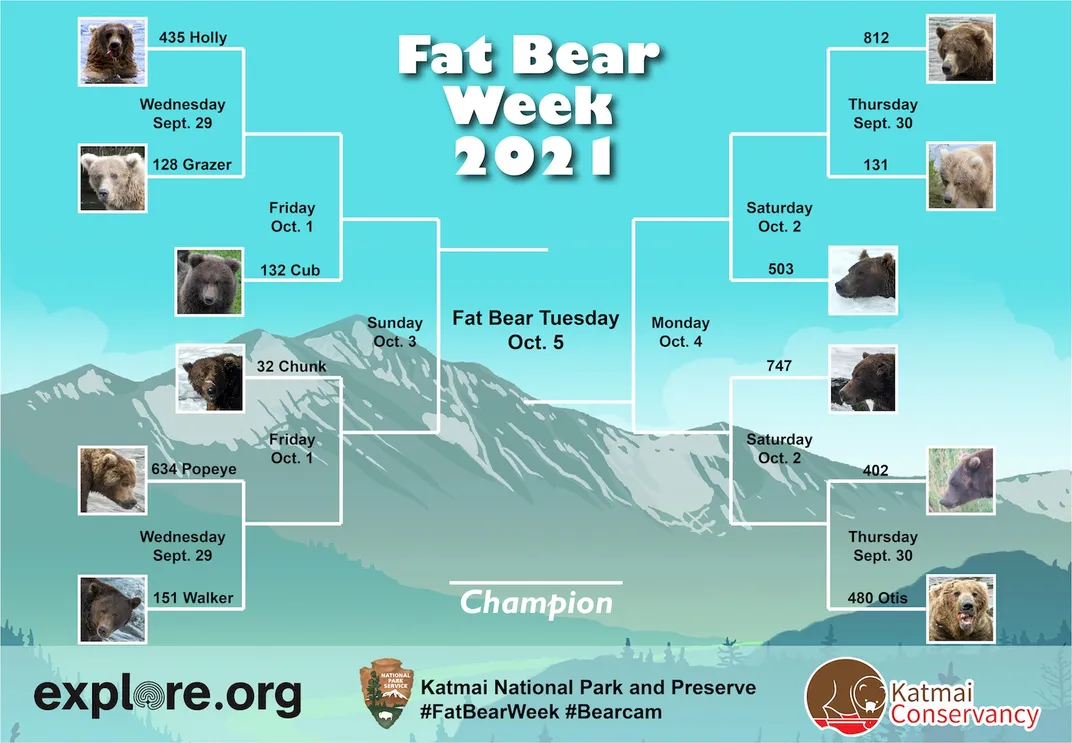 The annual tournament celebrates the bears' success in preparation for their long winter hibernation, but it's also become part of a conservation movement. Though the bears are reaching peak fatness this week, Fat Bear Week is an entire summer of eating in the making. The bears eat around 90 pounds of fish, berries, small mammals, and vegetation each day to pack on the pounds necessary to survive months of winter hibernation. They'll lose over a third of their body fat during their winter snooze, which lasts about six months. If the brown bears don't have access to calorie-rich foods like salmon, they may not survive the winter.
"It really does raise awareness about their ecosystem," Law says to the Washington Post. "We are holding these Brooks bears and the Brooks area as an exemplary illustration of a healthy ecosystem…So, yes, we are celebrating the success of these bears, but it's important also not to forget that not all the bears and all of those places are so fortunate."
This years' late salmon run hasn't deterred hordes of bears from seeking salmon in the Brooks River, according to a National Parks Service press release. The lumbering creatures appear to have had no problem plumping up.
"They are pretty massive," says Naomi Boak, the media ranger at Katmai National Park and Preserve, to Mashable's Mark Kaufman.
Here are a few of this year's finest floofers:
747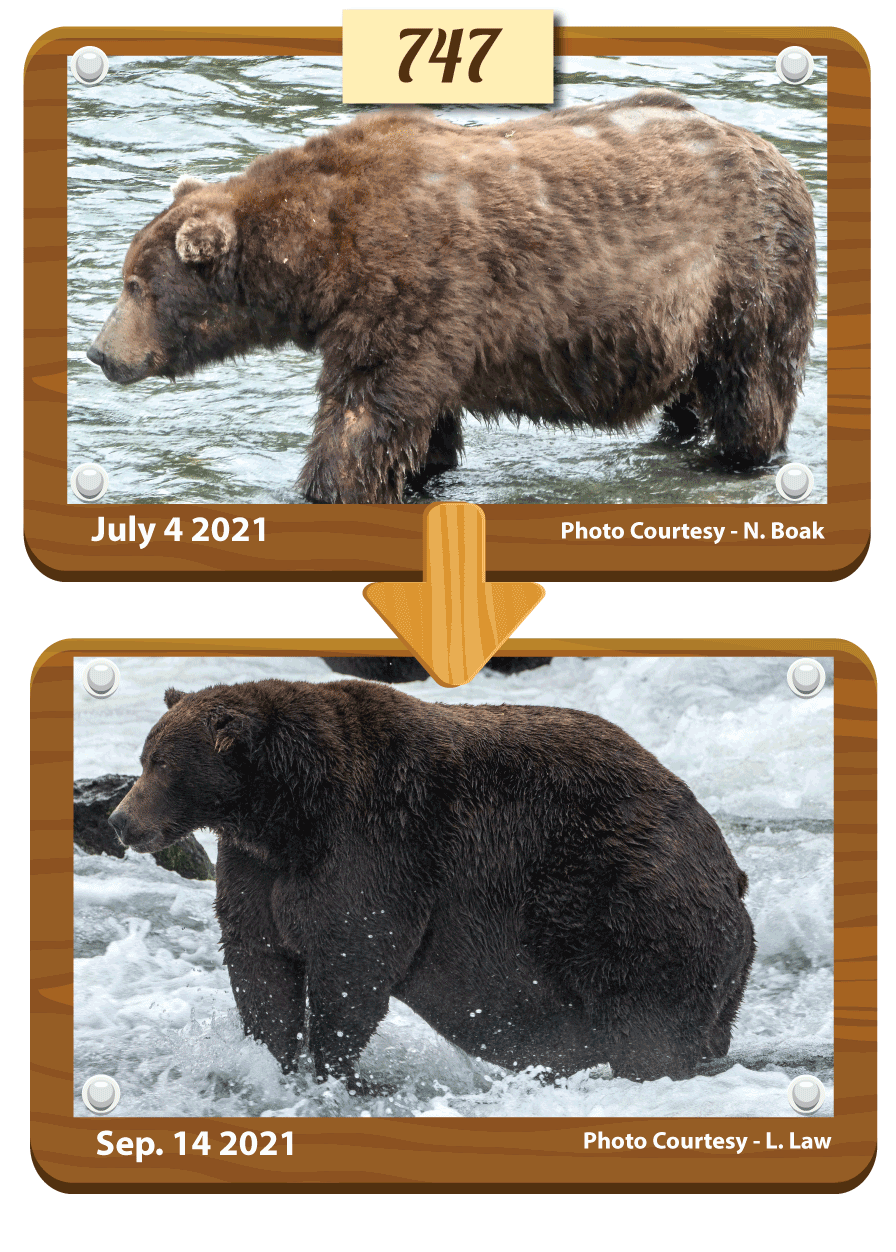 As last year's champion, some expect 747 to clinch a back-to-back victory. In September 2020, scientists estimated he weighed more than 1,400 pounds and he appears even bigger this year. According to Explore.org, 747 yielded to the river's most dominant bear, 856, for many years until this summer 2021.
"He's the fattest and largest bear I've ever seen," said Mike Fitz, a former Katmai park ranger and currently a resident naturalist for explore.org, to Mashable last year. "I feel a special bit of privilege to witness a bear as big as he."
Read the entire article and see additional photos here.